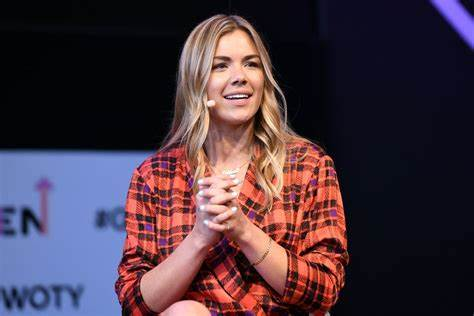 Two of the best examples of the "sports lifestyle" trend are the continued expansion of gyms worldwide and the continued growth of sports brands.
Best earnings years for Nike and lululemon, for example, are showing that more people are exercising, or at least more people are aspiring to an athletic lifestyle. Describing this trend as Athleisure, more brands have tried to cut into athleisure wear outfits in recent years.
Outdoor Voices, an emerging American sports brand, has maximized the characteristics of athleisure, even directly making users think of it as the "American version of lululemon". The athleisure brand Outdoor Voices, founded in 2013 by students who graduated from Parsons School of Design, has seen a significant increase in sales between 2013 and 2019.
Outdoor Voices, like its brand name, believes that "Outdoor" is more important to move. Unlike NIKE and Under Armour, which focus on professional sports style, Tyler Haney, the founder of the brand, believes that not everyone is a super hero, but everyone is human. Therefore, moving becomes the biggest label of Outdoor Voices, and the quick dry activewear is the biggest function design.
In the short 6 years since Outdoor Voices was founded, if founder Tyler Haney's philosophy of integrating leisure activities into everyday life has been the core of the brand, then differentiated brand positioning, design and practical functionality, and online oriented community operations are the three main reasons for OUTDOOR VOICES's success.
The rapid growth of Outdoor Voices almost perfectly matches the American sports and leisure lifestyle label. Outside of Lululemon's headquarters in Vancouver, OUTDOOR VOICES began its rise in Austin, Texas.
Outdoor Voices brand path
Compared to specialized, more consuming sports, Outdoor Voices first put the label "MOVE" on its brand.
The founder even argues that for the "faster, higher, stronger" advertising words that have long dominated the sportswear market for the brand, but for Tyler Haney, these from the brand concept never resonated with her. "Outdoor Voices is more likely to do half-hour dog walks, jogs and rock climbs than the 10K runs Nike does," a lifestyle sports concept that was also the brand's earliest source of seed users.
Originally from Boulder, Colorado, Tyler enjoys hiking, basketball and hurdling in his life, and originally planned to go to college to study kinesiology, but eventually decided to attend the Parsons School of Design's business program.
In the process, Tyler became "obsessed with technical materials. After spending more time learning about the science behind materials and how fabrics look different in different states of motion, Tyler decided to make fabrics that could be used in all kinds of activities, combining sports and leisure, rather than just functional activewear. Voices collection was launched in 2013.
Outdoor Voices opened its first retail store in October 2014 in Austin, Texas, where the brand is partially headquartered. After a small operation, OUTDOOR VOICES began using social media to expand and grow a large following of brand users.
The brand's team brings together creative design teams from Lululemon, Calvin Klein and Alexander Wang to bring a combination of fashion and product functionality to city chic sportswear.
For this reason, the history of Outdoor Voices has been called the next Lululemon by many media, not only because of the similar overlap between the two brands' products and user demographics, but also because OUTDOOR VOICES and Lululemon are leading the athleisure trend in comparison to other traditional sports brands, which is becoming the next trend in fitness apparel. The next trend in fitness apparel is OUTDOOR VOICES and Lululemon.
Looking for a lifestyle sports community
For the differentiated brand positioning, OUTDOOR VOICES' user group positioning is casual sports fans.
First of all, comparing with other sportswear brands, such as Nike or Under Armour, for these professional-oriented sports brands, most users' impressions are dominated by the image of professional athletes, while OUTDOOR VOICES focuses their image on ordinary users who are active on a daily basis.
The feature that distinguishes OUTDOOR VOICES from other brands is that it encourages users to exercise to bring health and happiness, but this is not necessary. By strengthening such a concept to bridge the gap between daily wear as well as sportswear clothes, these subtle differences help position the OUTDOOR VOICES brand concept and break the user's impression of traditional sportswear brands.
Outdoor Voices operations are primarily based on online channels, with OUTDOOR VOICES online business reportedly accounting for 70% of sales. With the significant revenue generated from online sales, OUTDOOR VOICES also leverages its physical store locations to interact with users offline and ensure that the user experience matches the brand.
To bridge the gap between sports and casual wear, OUTDOOR VOICES is focusing on an overlooked community, a demographic that most active apparel brands ignore.
By opting for more social spaces and casual activities such as group races or outdoor yoga, they offer users a way to interact with the brand at their own pace, rather than highlighting the professionalism of NIKE and other sportswear brands.
OUTDOOR VOICES defines the brand's users as people who like sports, but would not define them as professional athletes. This is seen, for example, in the company's advertising and branding, especially in social media, where there are more than 80,000 posts with hashtags like #doingthings that allow users to showcase OUTDOOR VOICES apparel in their daily activities, which not only serves as brand promotion, but also helps users increase their sense of community.
The majority of these posts are user-generated posts, thus highlighting that customers use Outdoor Voices products in their daily lives, whether it's for everything from yoga and hiking to weightlifting and running, thus demonstrating the popularity of OUTDOOR VOICES products.
Outdoor Voices and the next lululemon
For the history of Outdoor Voices, more people call it the next Lululemon, not only because the two brands have similar overlap in products and user demographics, but also in comparison to other traditional sports brands, OUTDOOR VOICES and Lululemon are leading the athleisure style that is becoming the next trend in fitness apparel.
Lululemon, also known for its "sports lifestyle", not only reflects its brand concept in apparel retailing, but also recently announced the official opening of the world's first Lululemon gym, which not only has an exercise space, but also a one-stop living space equipped with healthy meals and a casual office, truly allowing users to have an experiential retail.
Faced with strong competition from sportswear, especially Lululemon which has a similar brand concept, OUTDOOR VOICES has chosen to occupy the Fitness apparel market through brand diversification.
As a DTC internet retailer, OUTDOOR VOICES, like most e-commerce companies, started online and then expanded into brick-and-mortar stores, currently opening seven stores in New York, Los Angeles, San Francisco, Dallas, Austin and Aspen.
OUTDOOR VOICES chose to combine offline brick-and-mortar stores with AR technology, launching an app last year called OUTDOOR VOICES Trail Shop, which requires users to step indoors and follow map prompts to 50 offline Trail Shop locations to find exhibits, with products appearing on a platform similar to Pokémon Go The products appear on a Pokémon Go-like platform, and then users can add the products into the virtual shopping bag through an AR game.